Mt, Toby Waterfall Fern Hike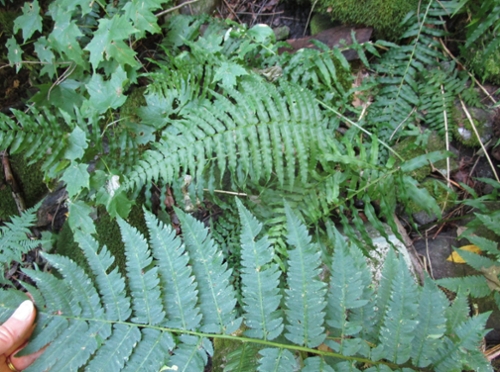 Goldie's & Narrow Lvd Spleenwort
Sunday, September 12, 2:00 pm until 4:00 pm
Leverett, MA
This is a hike we do in the early spring to see all the wonderful fiddleheads and wildflowers. Now we see the ferns at full growth, in all their glory! Besides the beautiful and somewhat common (Maidenhair, Ostrich, Narrow Beech, Bulblet...) we will see the uncommon such as Goldie's (our largest wood fern), Narrow-leaved Spleenwort, Walking & Fragile Ferns. Also wildflowers, and maybe the waterfall will still be flowing.
Somewhat difficult walking in a few spots (a few short steep sections, mud or shallow water, railroad tracks and narrow trail). Recommend hiking boots, and protection against poison ivy, and insects.
A wonderful place to visit for ferns, flowers and forest. This is a popular spot for people to come and enjoy, so we may have some difficulty with parking if a lot of people come in their own cars. It holds about a dozen or so cars. There is a request for $2 for each car for parking (donation box at beginning of trail).
Hope to see you!
Janice & Randy
Mt Toby waterfall 091221 poster (2021-08-10 at 10:50 PM)
Posted to: General Events