Ferns of Highland Park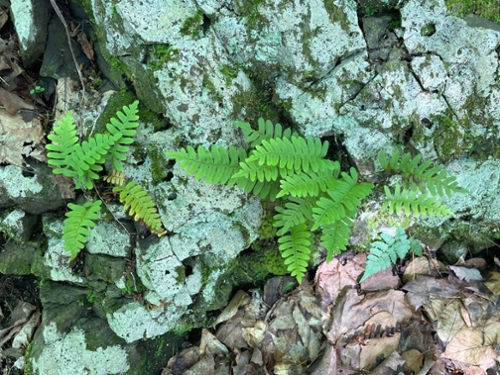 Common Polypody
Sunday, June 19, 2:00 pm until 4:00 pm
Greenfield MA
Highland Park in Greenfield is a popular place for hikers who enjoy the trails and views from the top of the ridge. But it is also a great place to find ferns. Join us in exploring a diversity of ferns in this area.
There will be two parts to this hike. The first part (2-3pm) takes an easy path around a wetland next to the parking lot and Highland Pond. The second hike (3-4pm) requires the ability to hike up some steep slopes and rocky areas to see a different group of ferns in a rougher environment. People may attend one or both as they choose and are able. There are 18 or more ferns altogether, some seen along the way on both hikes.
Meet at 2 or 3 PM at the parking lot next to Highland Pond. Event is free and open to the public. We recommend good hiking shoes & bug repellant. No dogs please (they tend to trample the ferns we are trying to look at).
Highland Park Fern Walks 061921 poster (2022-06-16 at 11:59 PM)
Posted to: General Events