Happy Halloween!
Ghost ferns are out there waiting for you!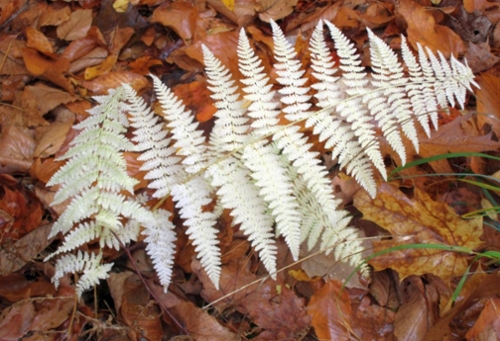 Hello all,
Happy Halloween! The fern season is not over yet. Besides the still green grape ferns, climbing ferns and usual winter ferns, many ferns are in beautiful fall colors. There are also many of what I call "ghost ferns", beautiful in white against the fall leaves. This photo is of hay-scented fern, not especially attractive in season, but lovely now. Hope you have been enjoying the beautiful fall weather and ferns.
A reminder that we are planning on our usual Black Friday Fern Hike (day after Thanksgiving) via the Robert Frost trail at Mt Toby off Reservation Rd in Sunderland. There is a fair amount of up and down hill along the trails, and a little bushwhacking up at the caves if you want to see some of the ferns growing along the ledges and off the trails. Or you can just enjoy the hike and see the common "evergreen" ferns along the trails.
Also a reminder that we have Pioneer Valley Fern Socieiy hats.in a nice green-grey 100% cotton for $20. Email us if you want to buy one and we will figure out how to meet up to get it to you. We will bring some to the November 26th hike.
Posted: to General News on Sat, Oct 30, 2021
Updated: Sat, Oct 30, 2021