July Fern Walk Schedule
check out upcoming events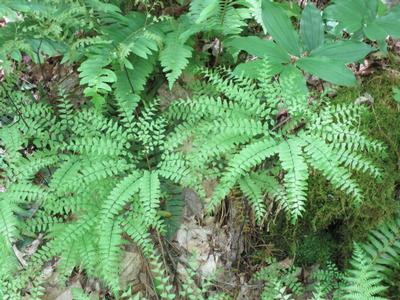 Hello all,
Summer is here and the height of fern walk season is upon us! We have 3 new events in July, and hope you can join us on some of them (and bring a friend). This coming Saturday July 13th is the Easy Fern ID workshop at the Leverett Library, followed by a fern walk (to help confirm those fern IDs) at the nearby 4H Forest. If you have not seen Randy's powerpoint on fern ID it is worth coming-great photos and explains nicely the ID process. And great selection of ferns (19) along a trail and boardwalk.
Sunday July 21st we have 2 new walks in Gill. Starts at Barton's Cove, and then a separate side trip nearby for wonderful roadside ferns. If you have not been to this part of Barton's Cove it is worth discovering, esp. the wall of maidenhair spleenwort! See PVFS website for details on where to meet.
Saturday July 27th we have a Guided Fern Walk in Plainfield, sponsored by the Plainfield Historical Society. They have been celebrating botany in June & July as part of an exhibit at the library of a 19th century botanical collection they recently received. We are the final act, and start at the library for half an hour to view the exhibit and a basic fern ID explanation. Then we tour a wonderful natural garden and woodland trail down the road with 15 different ferns.
We are working on the August calendar now. Check it all out at /calendar
Janice & Randy
Posted: to General News on Mon, Jul 8, 2019
Updated: Mon, Jul 8, 2019